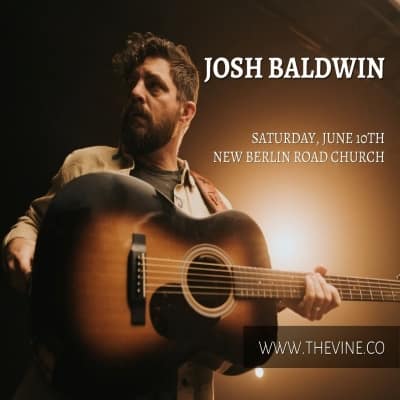 Josh Baldwin – The Vine.co is proud to announce a Music for Missions concert.
Please join us for an intimate night of worship with Josh Baldwin of Bethel Worship with special guests NB Worship. New Berlin Road Church is a small venue so tickets are limited. Your purchase will help support The Vine.co and our work in Haiti and Nicaragua.
Josh Baldwin is a songwriter and worship leader who joined the Bethel Music Collective in 2014. He began his journey in North Carolina where he was a worship pastor for 10 years before joining the collective and is now a resident of Franklin, TN with his family. Josh loves writing corporate worship songs for the global church, and his music is an expression of who God has been for him in every season.
This event is to help support the work that The Vine.co is doing in Canaan, Haiti and Nicaragua. There will be limited seating, so please do not wait to purchase your tickets. VIP with Meet and Greet starts at 5:30. Doors open at 6:00 PM and show starts at 7:00 PM.